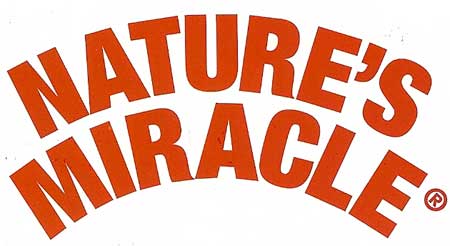 ---

The "NATURE'S MIRACLE" Story
Nature shows us how to remove stains and odours

---
The earth on which we live is billions of years old. And, billions of plants and animals have lived and died during all these years. When you think of it, the earth's surface should be filled to the sky with the remains of all these long dead plants and animals.

Yet, when you look out over a meadow, it's completely clean! Nature has a way of getting rid of all this organic debris.

Nature uses enzymes. And, these natural enzymes covert al this organic debris into a liquid that drains into the earth. "NATURES MIRACLE" uses nature's enzymes to remove all stains and odors in the same way!

"NATURES MIRACLE" Stain & Odor Remover contains billions of liquid enzymes. When applied to stains and odors into a liquid you merely wipe away with a cloth.

"NATURES MIRACLE" is safer on fabrics and other surfaces. It doesn't leave any rings. And, its EASY to use. Just follow the simple directions on the label.

"NATURES MIRACLE" also eliminates perspiration odors from coloured jogging clothing and other clothing, including underarms of coats and jackets. It removes food stains. It saves you money on cleaning bills. Use it in cat litter boxes to eliminate odors and extend litter life, and to clean and deodorize cages and pet living areas. Use it in cars, trucks, boats and recreational vehicles to remove smoke odors and other odors and stains, to clean upholstery and carpets etc.
REMOVES:

Urine Stains & Odors
Vomit Stains & Odors
Feces Stains & Odors
Blood Stains
Litter Box Odors
Pet Living Area Odors

Cage Odors & Soil
Food and Grease Stains
Dirt and Soil Stains
Perspiration Odors
Cat Spray Stains
PLUS MANY OTHERS

CRUELTY FREE: Not tested on animals. No animal parts in this product.




---

You don't have to get rid of your pet to get rid of stains and odours!

Nature's Miracle solves this messy stain & odour problem for you

---

Now you can remove the oldest most stubborn set-in stains and odours that other products failed to remove - including pet urine odours from carpets, floors, furniture and other surfaces as easily as 1, 2, 3.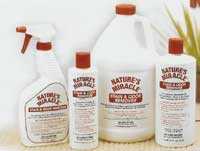 1. Simply apply "NATURE'S MIRACLE" over the stain or odour.

2. Wait about a minute or two for "NATURE'S MIRACLE" to turn the stain and odour causing material into liquid, then

3. Just wipe it away with a cloth or paper towel . . . Job's done. Stains gone! Odours gone! No rings left. No vacuuming, no shampooing, no professional carpet cleaning necessary. And best of all, "NATURE'S MIRACLE" is non-toxic and non-flammable. Safe for use around children and pets.